---
LGR - Wasteland - DOS PC Game Review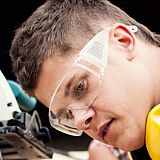 Posted By Patrick C.
---
Before Fallout, there was Wasteland from Interplay in 1988. And it exploded cRPG gamers' minds like a blood sausage with its post-apocalyptic awesomeness!
---
Join Our Community!
Like what you see? Get a FREE account and start posting, sharing, and discovering more!
Have Questions? Contact Us!
Find out the answers to your questions by contacting us. We look forward to hearing from you!